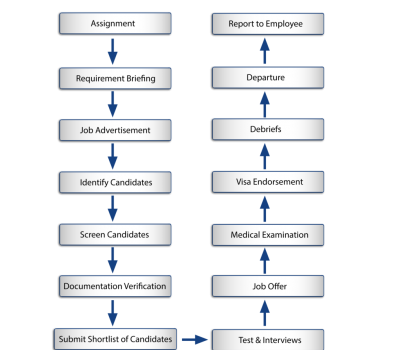 Recruitment Phases
Recruitment Cycle consists of practices and activities carried on by the New Talent Recruitment And Consultants Agency with the primary purpose of identifying and encouraging the candidates. 3 phases to recruitment: applicant generation, maintaining applicant status, and applicant job choice/decision. Therefore, when developing a recruiting plan, it is important to take into account each portion of this cycle.
Recruitment And Selection Process:
Assignment: Assignment is the primary stage this is viewed from client's perspective. Any task or demand given from client to provide manpower is termed as Assignment. Which is the initial stage and on the basis of that assignment all the later stages of the Recruitment Phases are decided. So assignment plays a major role in deciding the future roadmap of the assigned project
Requirement Briefing: Once the project is assigned a formal briefing is given to the New Talent Recruitment And Consultants Agency by the client. In this requirement briefing the client may use different communication mediums with the New Talent Recruitment And Consultants Agency so that DITRC could start knowing the nature, requirements and other tasks.
Job Advertisement: Once the briefing is done and the contracts between the client and DITRC are signed and the terms and conditions are agreed the process of advertising the jobs in the newspaper is carried out with the approval of the client.
Identify Candidates: CV's are collected by using print media and different job hunting portals to choose and scrutinize the eligible and most suitable candidate for the particular job posting.
Documents Verification: On the basis of CV's and scrutinizing and Interview process all the documents of the successful candidate
Short listing Candidates: Once the verification is done a list of shortlisted candidates is prepared to finalize all the formalities for the candidate.
Test & Interviews: Final tests and interviews of the shortlisted candidates are conducted. For that different approaches are used depending upon the needs of the client. However New Talent Recruitment And Consultants Agency facilitates both its clients and candidates to take and conduct interviews and tests for the selection.
Medical Examination: Candidate has to go through complete medical examination to be able to physically able to work in the Gulf countries. Those selected candidates are referred to the authorized medical centers for medical checkup, on the basis of the reports of that medical examination; candidate's visa stamping and other formalities are performed.
Reporting to Employee: Preparations of departure start taking place and once ticket is confirmed, candidate has to get ready for the call and report to employee.